Post by s73 on May 8, 2018 13:47:01 GMT -6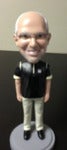 Daddy:"I need to talk to you about Lil Johnny."
Me: "Alright, what can I do for you?"
Daddy: "Lil Johnny isn't getting enough playing time and he isn't touching the ball enough. He's the best RB you have."
Me: "Well, it's freshmen ball and we're more concerned with getting kids playing time."
Daddy: "It's high school football. You should be playing to win not dishing out playing time like some communist country."
Me: "That is something that you need to take up with Coach _____ (the HC) as he wants us playing as many kids as possible. I agree with him though; we treat the lower levels as developmental."
Daddy: "No, YOU'RE the person I need to be talking to; you're his coach and you're calling the plays. Did you know that he only has 12 carries for 40 yards and 3 catches for 16 yards through the first two games."
Me: "Look, I'm done talking about this, we'll need to discuss this further with Coach Mr. HC and Mr. Athletic Director."
Daddy:"We paid $15000 for him to attend the Seahawks football camp this last summer!! He deserved more playing time and more touches. This is bullchit!!".
Me: "Give the head coach and athletic director a call, I'm not discussing this any further."
Daddy: "Well, I'm pushing to have you fired, just so you know".
Me: "Alright."
Sure as chit, we had a terrible season with the freshmen team (because we didn't coach them very well..), Lil Johnny's Daddy got the rest of the parents worked up and the whole freshmen staff was canned at the end of the season.
Rule #1: "WE DO NOT DISCUSS PLAYING TIME". Program wide. Top to bottom. Parents are told this from Day 1 and it is enforced. Any coach who can not follow this simple rule gets fired. Solves many problems. (Also, make sure admin is aware of this and supportive from Day 1 as well).
I honestly can say that discussing PT IME has been a positive for me.
Now don't get me wrong, I won't discuss other kids w/ a parent but I will discuss there kids PT.
The reason I feel this way is I stay on top of off season attendance. So, if a kid doesn't show up to the weight room, I have no problem emailing a parent as a heads up.
When that same parent emails me mid season why "little Johnny" isn't playing, I always have records to fall back on.
Same w/ performance, I always notate the good & the bad on film, so I have something to point to when parents are unhappy w/ PT. FOR ME, I have always felt that "getting out in front of it" is a good thing.
I recognize I'm in the minority but I feel that open communciation along w/ continual communication seems to avoid alot of problems.
JME.