Post by mnike23 on Feb 23, 2017 7:15:55 GMT -6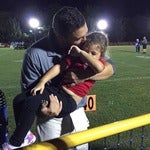 Pros to being HC:
You control the mission and vision of the program.
It mirrors your personality
. There's no disruption in the message so:
If you want wild dudes that put their wieners on the glass at the Kiwanis club- that's your call.
If you want guys to come out singing and dancing together- that's your call.
If you want a ban on neon one-arm sleeves and coaches hip bumping- that's your call.
If you want to hold up signs with legendary movie QB Johnny Walker on them- that's your call.
thats exactly the truth.
it takes awhile, but thats the truth.
i was a head wrestling coach for close to 15 years before I got my first football head job. my goal was to do both. i feel like they go so well together. the discipline aspects, adversity of the difficulties of TEAM and ME in the ultimate team sport and the me sport.
as a head wrestling coach, we were angry, fighters. when we lost, i kicked chairs and was mad as hell. when we won, we all jumped up and down. the more we won, the less jumping up and down for me---i expected it and nothing less---when we lost, it became worse. i was infused with a hatred of losing, more so than the joy of winning.
as a head football coach, i worked my tail off to try and instill those same things to the kids. thinking I could do it in a small time frame(2-5 years) and have the same type of fighters, running thru the wall and wanting to beat the team to a pulp.
so i got a rough group of kids and they loved my fire. loved it. but couldnt see my fire for losing was even more intense.
thus the losses became more ugly and the wins become less and less.
being the HC of a football program is a joy. and is the hardest job in sports. you will deal with more crap than you ever, EVER knew exsited as an assistant.