Post by tog on Dec 7, 2005 11:19:46 GMT -6
In an effort to cut down on the number of stickys. I am going to post links to some of the various threads about [glow=red,2,300][/glow]and or I am going to just put the info right in here. The threads where this stuff started will be on the main page until they get bumped off or someone brings them back to the top by replying. Please feel free to check out the links and add to them.
Hopefully, the amount of stickies you will have to scroll through should be cut down and this can be a good resource starting point for you.
---
One of the first things to keep in mind is this:
THIS IS A FOOTBALL SITE. AN X AND O's FOOTBALL SITE. PURE FOOTBALL SITE.
WE WANT TO HAVE SOME FUN HERE, BUT KEEP IT CLEAN GUYS. THERE ARE TEACHERS ON HERE THAT DO NOT NEED CERTAIN THINGS POPPING UP ON THEIR SCREENS IN CLASS. SO, NO PICS OF FINE (OR OTHERWISE) FEMALES IN AVATARS OR WITHIN THREADS. (SEND THOSE TO ME VIA PM'S

)
---
For the computer slow people out there. Drag your mouse over the
yellow
words -- they are links to other threads on this site. Click them to see them and then add to them.
---
1. READ THE RULES OF ENGAGEMENT
---
2. Introduce yourself
or to learn a little more about some of the users already on here, click here and tell us something about yourself. This has been a great way for people to make connections.
---
3. check out the downloads section!
Huey has started making whole other sites just with downloaded playbooks on them for you to get. There will be plenty more uploaded in the next few days.
---
4. if you are having trouble
logging in click here.
[/b][/url]You can always email me, and I will help with this.
---
5. if you want some information about
clinics
around the country that people have added, or if you want to add other clinics, then
click here
---
6. if you want to figure out
how to make attachments and pictures work, click this.
This is one of the great features on this site. You can see what people are talking about.
---
7. if you want an
avatar for your username
---
8.
THE CHAT/WHITEBOARD.
[/url] Quite possibly THE coolest feature on this site. Draw and discuss football plays with the other members from around the world.
---
9. If you are looking for a list of all the
job boards
[/url]anyone can find, or want to add one, here is the list. Job boards, on a coaching forum?
---
REMEMBER

THIS IS ON THE INTERNET.
Voice inflection
humor
regional differences
dialects
names
nomenclature
ALL these things make it difficult to understand each other at times. So, with that in mind, just relax. Have some fun, talk some football, realize that there are many many ways to play this game and just be cool.
---
10.
for more information about internet message board etiquette check here
---
11. use the pm feature. (email or PM a user) --
click here for video on how to send a pm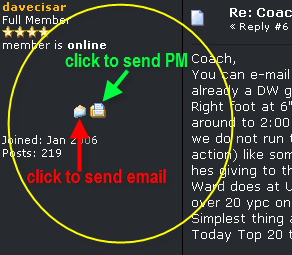 ---
12. USE THE SEARCH FEATURE!
click here for video on how to do a search
SEARCH LINK
, many topics have been talked about before, using the search feature can help you find a prior discussion on the topic, then you can weigh in with your questions or input as well
---
AND LAST BUT NOT LEAST
The pet peeve
13.
TRADING THREADS
As someone that has been around the football internet message board scene for a while, one of the biggest pet peeves I have is seeing a new topic in a section I know I am interested in and seeing this
"hey coach, can you send me this? please email me at coachblahblahblah@yahoo.com"
Those threads will be moved to the trading post section.
Please share things you know how to do, or share ideas that you like. Please don't just make things available for people to take/steal/borrow when they haven't actually made the effort to truly understand them from the people that know.
14. post count inflation---you will be warned one time by a moderator about artificially inflating your post count so you can get into certain sections of this website---after that--you will be banned
---
Don't just be a USER on this site. There are plenty of sites out there on the internet for that. There are plenty of football message boards that have turned into that due to lack of moderation and effort of the people that run them. Let us make this a better message board than that.
[glow=red,2,300][shadow=red,left,300]
[/shadow][/glow]
---
ALSO